Gandalf the Gray and Troubles are brothers.
Here they are resting comfortably on my bed. Mostly, whereever I am, they are sure to be nearby. Unfortunately these two cats have been gone a while. Troubles passed away while I was at work one day and Gandalf had to be put down due to constant illness.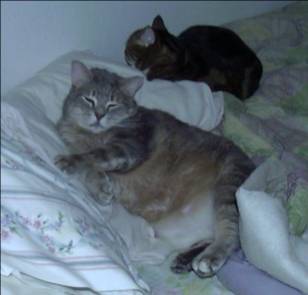 Tim
Tim was put out by someone who evidently didn't want him anymore. He became a member of my family and, like Gandalf and Troubles, can almost always be found near me. You may also notice that Tim has two different colored eyes.